Pastor Richard Bersett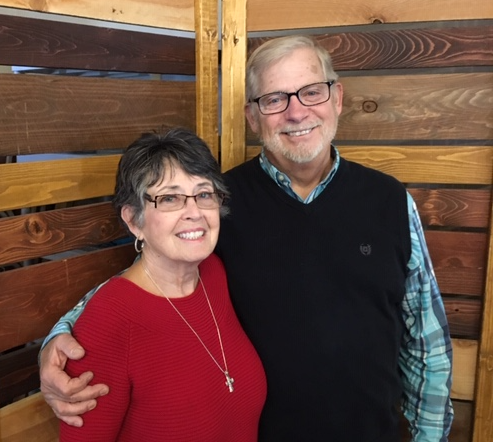 Our founding and teaching pastor at Metro-East Christian Fellowship is Rich Bersett. He was born in the metro-east St. Louis area and knows our communities well. With college and seminary (M.A.) degrees from Lincoln Christian University and Kentucky Christian University, as well as 47 years in Christian ministry, he is an avid student of God's Word, a skilled teacher/preacher and writer whose sole passion is for anyone who hears or reads him to move forward in their walk with Christ.
He married his lovely and energetic wife, Charlotte in 1969; they have three children (one a special needs adopted young lady) and five fabulous (their term) grandchildren ranging in age from 12 to 25. (The youngest of them he and Charlotte affectionately refer to as "our beloved tech advisors").
They work together to lead an excited team of dedicated and hard-working Christian servant-leaders who take careful responsibility for MECF's outreach, member care, worship, education and administration.
Elder Cary Mathews
Cary Mathews serves as a co-elder of Metro-East Christian Fellowship with Pastor Rich. He has attended MECF since he was in high school. He graduated from Abilene Christian University with a Bachelor of Science in Computer Science and is currently employed by a military contractor at Scott Air Force Base. He married Katherine in 2007 and together they have four charming and sociable daughters, from nine to two years of age.
Ministry Teams
Kingdom Expansion
Our Kingdom Expansion Team is heavily involved in world missions, from Niger and Uganda, Africa to Brazil, Indonesia, Iraq and Israel to Haiti, Mexico and Guatemala. The church members have averaged two-to-three on-site mission trips per year over the past twenty-plus years. In addition, our industrious Team leads the church in supporting and actively helping in our local Christian pregnancy care center, ministry to international refugee families (benevolence, family "adoptions" and English language training).
All of this while helping to inspire our own Christian families to do the most important kingdom work of all—maintaining the light of the gospel in our own communities, sharing with others the saving message of our Savior and Lord Jesus Christ, by word and by example.
Christian Education
With a broad base of talented and enthusiastic adult and teen teachers and helpers, our children are nurtured in a carefully planned program of Christian education that seeks to complement the children and youth's parental instruction in the "respect and admonition of the Lord." Clear Bible teaching with application to life suited to each age level, our caring teachers and staff know their highest priority is to love and care for each child, making them even more receptive to the sanctifying Word of God that is taught them by their parents and church teachers.
Worship
Our MECF Worship Team is a talented blend of musicians, instrumentalists and audio-visual specialists whose teamwork and skills help provide an atmosphere of high praise and sincere worship toward the Lord. Their faithfulness to practice, their finely tuned music and their love for God are on display in our public services and not only help our corporate singing and meditative worship, but keep the fire of Christian devotion and thankfulness alive in the hearts of those who listen, sing along and engage the Holy Spirit. From energized periods of high celebration to reflective moods of reflection and silence, these precious folks keep their finger on the pulse of what God is doing moment to moment and help us all to experience every nuance of worship and to truly "worship God in Spirit and in Truth."
Small Groups
Our small groups are led by caring, sensitive, pastoral leaders whose deep desire is to foster an environment in which people encounter God through the study and discussion of His Word, but also enjoy one of the most overlooked blessings the Lord provides for us—the experience of Christian fellowship. It is the "one-another-ness" of the family of God that knits us together in love and unity ever more tightly. Praying, laughing, serving, having fun, studying, sharing meals and events with one another—these are the ingredients of genuine friendship and Christian koinonia. Groups of all sorts and sizes can lay hold of that spiritual "oneness" that makes each member, and each group, stronger in faith and devotion to the Lord